Comedy of Errors at Elm Street Cultural Arts Village
Dates

10/23/2020 - 10/25/2020

Theatre


111 Elm Street
Woodstock,GA 30188
Twitter Facebook Instagram

Tickets Info

$5-$46
Phone: (678) 494-4251




Take one pair of estranged twin sisters (both named Antiphola), and one pair of estranged twin servants (both named Dromio) both pairs separated at sea at birth. Add a dash of mistaken identity, over-the-top slapstick, and throw them all into New Orleans during Halloween, and you have all the ingredients for theatrical chaos that is the Bards zaniest comedy!
Ages
: Recommended for All Ages
News About Comedy of Errors at Elm Street Cultural Arts Village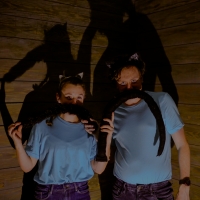 Elm Street Brings Shakespeare Comedy Outdoors with A COMEDY OF ERRORS
October 14, 2020
Beginning on October 23rd, local talent will perform on Elm Street Cultural Arts Village's Event Green in Comedy of Errors, a classic Shakespeare comedy about mistaken identity. Shakespeare's plays have always been linked to outdoor performance, and what better way to experience one of his plays than an evening out on green grass and in the open air?