Austin Shakespeare presents A Midsummer Night's Dream at Austin Shakespeare
Dates

10/22/2020 - 10/25/2020

Theatre


81 San Marcos St., Ste. C2 Austin, Texas 78702
austin,TX 78641
Facebook

Tickets Info

$10




Austin, TX Austin Shakespeare and the City of Austins Cultural Arts Division will bring the magical comedy A Midsummer Nights Dream to online audiences live on four evenings, Oct. 22 to Oct. 25. Tickets, which are $10 for adults and $5 for children, are available at www.austinshakespeare.org.We are thrilled to bring our creativity to Shakespeares perfect comedy of lovers, fairies and zany comics with virtual backgrounds by Lowell Bartholomee, including live music and dance said Artistic Director Ann Ciccolella. A favorite for Austin audiences, the popular play, with costumes designed by Aaron Kubacak, was originally slated to appear on the Zilker Hillside Stage. The costume design for Midsummer embraces whimsicality, and seeks to incorporate lush jewel tone fabrics, botanical elements, and fantastical fairies with headdresses that light up, he said. It offers a contemporary grounding of style with hints of steampunk and gender play.Experienced actors were selected from auditions last spring for the intended Zilker Hillside Theatre Production. Actors who have worked with Austin Shakespeare before include the Lovers: Helyn Rain Messenger as Helena, Corinna Browning as Hermia, Ethan Santo as Lysander, and Matthew Wagner as Demetrius. The mischievous Puck will be played by Toby Minor; the glorious Queen of the Fairies by Gwendolyn Kelso, the legendary Theseus by Peter Young, Snug and The Lions parts by Bennie Braswell and Flute/Thisby by Max Green. New to the company are Ian Gould, who will be online from New York City where he played the hilarious Bottom for the NY Classical Theatre; Oktavea Williams, who will portray Hippolyta and the fairy Mustardseed; and Sam Mandelbaum, who will appear as the fantastical King of the Fairies. Also new to Austin Shakespeare are Joe Kelley as the rude mechanical Starveling; Lisa Young as the Fairy Peaseblossom; Michelle Jackson in an innovative take on Egeus; Eliza Renner as Quince, the workman/director for the bizarre play within the play. ABOUT AUSTIN SHAKESPEARE: The Bard is only the beginning. Audiences travel many roads with this professional company for surprising and entertaining theater productions featuring heightened language these days on Zoom, Facebook, and YouTube and live at The Long Centers Rollins Studio Theatre in the fall and spring, as well as Free Summer Shakespeare in Zilker Park and Young Shakespeare at the Curtain Theatre replica. Founded in 1984 and the only professional classical theater company in Central Texas, Austin Shakespeare stages performances that are fresh, bold, imaginative, thought-provoking and eminently accessible connecting the truths of the past with the challenges and possibilities of today.

News About Austin Shakespeare presents A Midsummer Night's Dream at Austin Shakespeare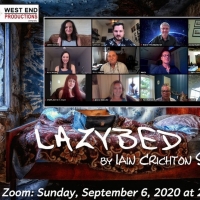 West End Productions Presents LAZYBED on Zoom
August 17, 2020
What is more fitting story during Covid-19, than that of a man called Murdo who takes to his bed for metaphysical reasons? What will get him out of bed? he cast of Lazybed, directed by Levi Gore hails from Albuquerque, Austin and Atlanta!