BWW Review: SWEET CHARITY at Vienna Volksoper
Musical Is Back In Town
The Theatre is back alive!
Of course, it's different but let's hope for the best, it will stay with us from now on. Things have changed, getting into the theater and into your seat might be different but hey, you still get the chance to enjoy live theatre and that's rare these days. Chapeau to the Vienna Volksoper and their team. Their Covid-19 prevent concept made it possible to reopen the house again. SWEET CHARITY, the Musical based on Fellini's movie "Nights of Cabiria", is telling the story of the taxi dancer Charity Hope Valentine. When you are talking about SWEET CHARITY names like Bob Fosse, Gwen Verdon, Shirley MacLaine are coming to your mind. Fosse created a masterpiece, his choreographies are something unique, and of course something you can't replicate. Director Johannes von Matuschka and his Choreographer Damian Czarnecki decided to create something un-Fosse. When you are used to Rich Mans Frug's Magic and all the Fosse Stuff, you might be disappointed. Nevermind the dance numbers are entertaining bur forget the missing Fosse magic. Enjoy the star of the evening. Austria's very own Lisa Habermann, starring as Charity Hope Valentine is something you can't miss this theatre season, undoubtful a first-class Leading Lady. Habermann is the Charity HOPE Valentine of our time! Charmingly, cheeky, and adorable from the very first minute. Peter Lesiak's performance as Oscar Lindquist brought back memories from the days when Mel Brooks THE PRODUCERS was in town and he was performing his heart out as Leo Bloom. Seems like nothing has changed since then. He is as brilliant as ever. The cast is full of first-class artists like Caroline Frank ( Helene), Julia Koci (Nickie), or Drew Sarich ( Daddy Brubeck) who was dressed as a mash-up from Hedwig and Frank'n Furter a transcendent preacher in a surreal staging. The show lost some of its tempo in Act 2, it felt like slowing down after Drew Sarich's psychedelic performance.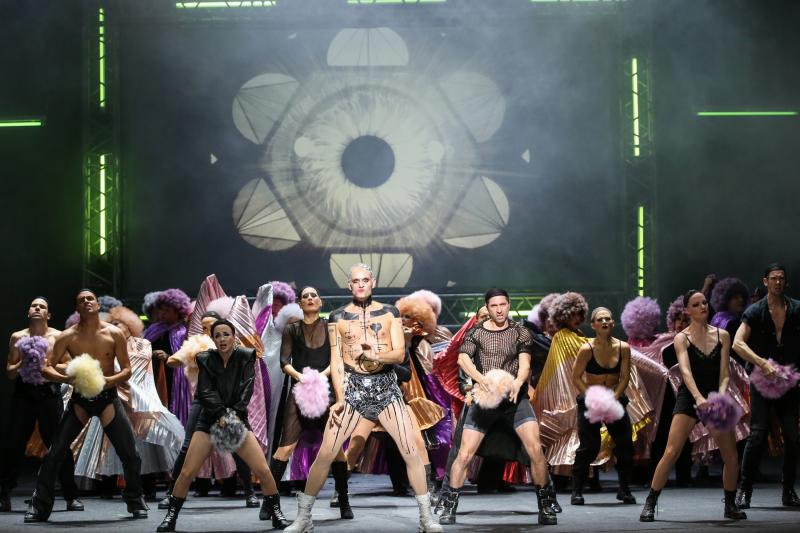 ©Barbara Pálffy/Volksoper Wien
Charity got dropped into the lake at the beginning of the show and so they did at the very end of it, was It all just like a dream, a glimpse of time? SWEET CHARITY with the marvelous Lisa Habermann is a theatre gift. Hopefully, one, that many of you are able to witness because there is nothing better than live theatre. Go and see SWEET CHARITY before it is too late.
For tickets visit: www.volksoper.at
Martin Ganeider, born in the beautiful mountains of Austria (not so Sound of musicish as some might think) Felt in love with Musical theatre when (read more about this author...)