Correspondences: On-Demand at HERE
Dates

10/1/2020 - 11/3/2020

Theatre


NYC,New York


Phone: 2123523101




by Ximena Garnica and Shige Moriya

Performed by the LEIMAY Ensemble

Oct 1-Nov 30

MAY.org" target="_blank">www.ondemand.leiMAY.org

From OCTOBER 1-4, HERE and LEIMAY presented LEIMAY's Correspondences, a new performance-based, public art installation by HERE resident artists Ximena Garnica and Shige Moriya at Manhattan's Astor Place. Now, for a limited time, two different art films capturing the meditative nature of the work will be available for on-demand access at ondemand.leiMAY.org through NOVEMBER 30, 2020. Correspondences offers spectators multiple entry points to engage with questions of being, interdependence, and coexistence. Performer, observer, machines, natural elements, and the urban square mingle in an entangled poetic microcosm while opening inquiries into animate life and environmental ethics.

Correspondences is performed by the LEIMAY Ensemble which includes Masanori Asahara, Krystel Copper, and Ximena Garnica, along with guest performers Ricardo Bustamante and Brandon Perdomo. The creative team includes Jeremy D. Slater (soundscape) and Irena Romendik (costume fabrication).

News About Correspondences: On-Demand at HERE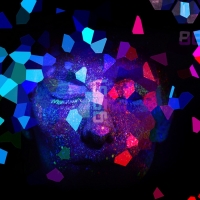 HERE Announces Additional Programming and New Puppeteer Residencies for Fall 2020 Season
October 22, 2020
The OBIE-winning HERE has announced additional programming for its HERE THERE EVERYWHERE fall 2020 season. HERE's expanded online programming continues to innovate with the serial space opera, Only You Will Recognize The Signal, featuring a libretto by Rob Handel, music by Kamala Sankaram, and direction by Kristin Marting.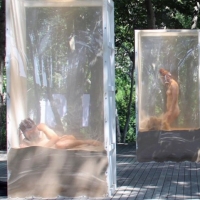 HERE and LEIMAY Present CORRESPONDENCES, an Outdoor Performance-Based Installation
September 14, 2020
HERE in partnership with LEIMAY, continues its return to safe and socially distanced in-person events with the world premiere of Correspondences, a free, outdoor, performance-based, public art installation in Manhattan's Astor Place, created by HERE resident artists and multidisciplinary duo Ximena Garnica and Shige Moriya.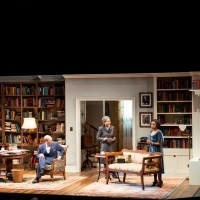 MY LORD, WHAT A NIGHT! at Contemporary American Theater Festival: Clashing Views on Resisting Racism
July 09, 2019
The drama works because of the intriguing way the characters' ideas about how to act in response to Marian Anderson's two provocative exclusions (first from Nassau Inn and then from Constitution Hall) shift repeatedly in response to new information, so that consensus is almost impossible to achieve, at least until the play's very end. Anderson seeks progress through song, unimpeachable behavior and an avoidance of politics; Albert Einstein wants an end to both racism and antisemitism, and by the end is very worried about the Bomb; Mary Church Terrell embraces confrontation because all else seems to fail; and Abraham Flexner tries hard to protect the Institute as a means of keeping the Holocaust from consuming absolutely all Jews, even though he can save only a few.