Come From Away - Broadway
On September 11, 2001 the world stopped. On September 12, their stories moved us all.
COME FROM AWAY is the breathtaking musical that reminds you of what good the human spirit is capable of. Written by Irene Sankoff and David Hein, and directed by Christopher Ashley, this musical shines a lot on the best of what we are capable in the absolute worst of times.
In a heartbeat, 38 planes with 6,579 passengers were stranded in a remote town in Newfoundland on a devastating day in September 2001. The locals in Gander opened their hearts and homes to thousands of stranded strangers, spurring unexpected camaraderie in extraordinary circumstances.
Video preview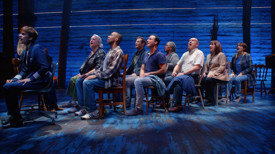 Photo preview
Schedule
Running Time: One hour and 40 minutes, with no intermission
Tuesdays: 7:00pm
Wednesdays: 2:00pm and 7:00pm
Thursdays: 7:00pm
Fridays: 8:00pm
Saturdays: 2:00pm and 8:00pm
Sundays: 3:00pm
(New York, NY)
236 West 45th St.
Seating Chart
Featured Reviews For Come From Away
Broadway review: Come from Away takes off on Broadway - TimeOut NY
Although the residual shock of 9/11 gives it a strong current of emotion, Come from Away's multiple narratives mostly have low stakes; it's essentially a show about a bunch of people inconvenienced at once. When it touches on weightier concerns-one passenger is the mother of a missing firefighter-it falters; it is better at celebrating less consequential things, like a rowdy evening of initiation at a local bar, where the visitors are urged to kiss a cod and try a local rum called screech. A band of eight plays the spirited, Celtic-accented score, heavy on fiddle and bodhran and flute. Under Christopher Ashley's fluid direction, the 12 versatile actors form a true ensemble cast, playing dozens of roles as both the Plane People and the plain people who welcome them to their rock...Despite minor stumbles of craft, Come from Away makes a persuasive case for the value of good intentions. For this kind of uplift you don't need planes.
Theater review: A 9/11 tale of epic kindness - The Record
Imagine a musical, based on a true story, that celebrates kindness and charity toward distressed foreigners. At a moment in history when certain politicians are telling us to fear and reject immigrants, we're shown ordinary people who act spontaneously out of a concern for others. Come from Away, which opened Sunday at the Gerald Schoenfeld Theatre, doesn't have an ironic or cynical bone in its body. It's a celebration of the best human instincts, and, particularly coming at this time, doesn't seem at all hokey. It's cheering and refreshing.
Come From Away Broadway Cast