Hadestown - Broadway
In Hadestown, a song can change your fate. This Tony-winning new musical by Anaïs Mitchell and innovative director Rachel Chavkin is a love story for today, and always.
Intertwining two mythic Greek tales - that of young dreamers Orpheus and Eurydice, and of King Hades and his wife Persephone - Hadestown invites you on a journey to the underworld and back.
Mitchell's alluring melodies and Chavkin's poetic imagination pit industry against nature, doubt against faith, and fear against love, with art perhaps being the one thing that can save it all.
Hadestown is a haunting and hopeful theatrical experience that grabs you and never lets go.
Video preview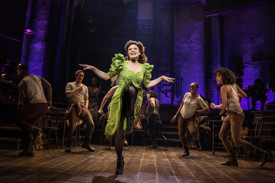 Photo preview
Schedule
Running Time: Two hours and 30 minutes, with one intermission
Tuesdays: 7:00pm
Wednesdays: 2:00pm and 7:30pm
Thursdays: 7:00pm
Fridays: 8:00pm
Saturdays: 2:00pm and 8:00pm
Sundays: 3:00pm
(New York, NY)
219 West 48th St.
Seating Chart
Featured Reviews For Hadestown
Theater Review: The Songwriting and Storytelling Tours-de-Force of Hadestown - Vulture
Hadestown has arrived on Broadway. Like so many of its mythic antecedents, it's the product of much metamorphosis, and its current manifestation feels lush, vigorous, and formally exciting, not to mention, in certain moments, witchily prescient.
Hadestown - TimeOut NY
Here's my advice: Go to hell. And by hell, of course, I mean Hadestown, Anaïs Mitchell's fizzy, moody, thrilling new Broadway musical. Ostensibly, at least, the show is a modern retelling of the ancient Greek myth of Orpheus and Eurydice: Boy meets girl, boy loses girl, boy goes to the land of the dead in hopes of retrieving girl, boy loses girl again. "It's an old song," sings our narrator, the messenger god Hermes (André De Shields, a master of arch razzle-dazzle). "And we're gonna sing it again." But it's the newness of Mitchell's musical account-and Rachel Chavkin's gracefully dynamic staging-that bring this old story to quivering life.